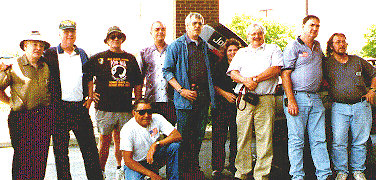 Firebase Indy 1997 - Picture #2
Left to Right: Reg Roberts, Gordy Maufort, Billy Ray Hocutt (kneeling)
Bob Beauch, Duane Reed, Mary Alice Bartlett, Alvin Bartlett,
Terry West and John Watje

---
IN MEMORY OF ...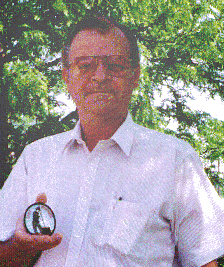 -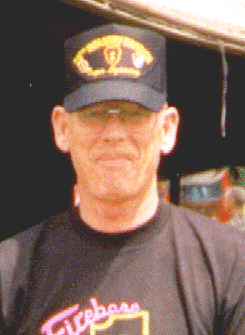 Bob Beauch ('97) & Bill Chron ('98)
Bob Beauch (left) holding a patch he purchased at Firebase Indy.
Patch shows soldier using a long stick to stir the contents of cut off oil drum.
Patch inscription reads: "S**T BURNER"
Possibly one of last pictures taken of Bob.

Bill Chron (right) as a Spec. 4 on our PRD-1 team was "mission control",
analysis, and report maker. Later Bill went to OCS and retired out of the service as a Major.

---
---
Vern Greunke - Webmaster
vgreunke@bigfoot.com
P.O. Box 124
Cedar Bluffs, NE 68015-0124

---

These Reunion Pictures Have Been Viewed
times.